One measure of the health of our rivers is the number of river herring that swim upstream from the ocean to freshwater in our streams and rivers to spawn in spring. Many volunteers are needed to participate in Citizen Science and count herring. Click on your river of interest and you will be redirected to a website with more information or to an email address to request more information. And, have fun! Watching this natural specatacle is an awe-inspiring experience.
First Herring Brook, Scituate
Great Herring Pond, Plymouth & Bourne
Herring Brook, Pembroke
This email address is being protected from spambots. You need JavaScript enabled to view it., Duxbury
Jones River, Kingston
Third Herring Brook, Norwell/Scituate
South River, Marshfield
This email address is being protected from spambots. You need JavaScript enabled to view it., Plymouth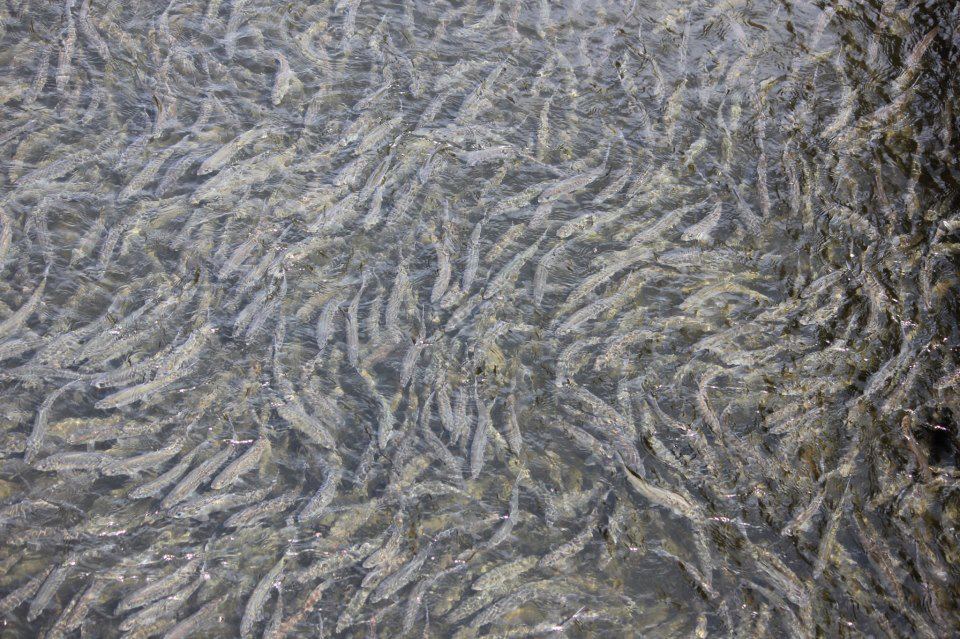 The Massachusetts Department of Environmental Protection (MassDEP) plans to propose at least two regulatory proposals later this year or early next.
So-called "Regulatory Reform" Package:
MassDEP has already provided an outline of these proposals, which would make a variety of changes (some good, some terrible) in the Wetlands Protection Act Regulations. The package would also eliminate all state permitting of sewer connection and extensions, even for industrial sewer discharges containing toxic chemicals which might or might be adequately treated before being discharged into our surface waters. The formal regulatory proposals may be out for public comment as early as this fall. Please check back in a couple of months for a full explanation on what MassDEP proposes, and what you can do about it.
The Sustainable Watershed Management Initiative (SWMI)
Revisions to the Water Management Act Regulations. Restoring natural water levels in streams has probably been WAA's number one priority. For over 2 years, conservation groups (including WAA), water suppliers , academics, and government officials  have been hashing out how much water suppliers and their customers should  be required to conserve  when groundwater pumping causes extremely low stream levels, as it does in many southeastern Massachusetts rivers and streams. Artificially low streamflows limit the populations and the  variety of species of fish and other aquatic wildlife that can survive in a water body. MassDEP's informal proposals have left a lot to be desired, but are better than the current rules, but we don't know yet what the formal regulatory proposals will include. Those regulatory proposals are expected at the end of 2012 or early 2013, and public input will be critical if improvements are to be made.

It is expected that other regulatory proposals will come along during the year, so please check this page often.
here we'll describe how people can support their local watershed group and why it matters.
To find out about the best places to explore and play in your region, click on the following links:
Recreation in the North and South River Watershed
Recreation in the Neponset River Watershed
Recreation in the Jones River Watershed
Recreation in the Back River Watershed
Recreation in the Pembroke Watershed
Recreation in the Weir River Watershed
Recreation in the Taunton River Watershed
Recreation in the Six Ponds Watershed
Recreation in the Eel River Watershed
What We Can Do:
Water conservation at home and at work means less need to excessively pump groundwater. It is inexpensive and does not require meaningful changes in lifestyle. Click here to see what you can do at home to conserve water.
SOLUTIONS FOR DEALING WITH IMPERVIOUS SURFACES?
Treat wastewater locally and discharge it back to the ground or to surface water upstream of the water supply wells or reservoirs it came from. New public wastewater treatment plants, and those wishing to expand their capacity, should be required to discharge their treated "effluent" strategically so that it replenishes water supplies and adds to stream flows. Sewers leading to large, centralized treatment plants should rarely be extended. A better alternative is "spot sewering," where wastewater from malls, office parks or entire neighborhoods is sent via small sewers to a nearby "package treatment plant" for local disposal. For homes, wastewater can also be safely treated and returned to the aquifer by using well maintained septic systems (assuming adequate yard size and proper soil conditions); in the long term it's usually much cheaper than paying sewer bills.
Recycle wastewater for additional uses. Treated wastewater — particularly "greywater" from showers and sinks — can also be used to irrigate lawns and plants or as "cooling water" in air conditioning systems. Even wastewater from urinals in large buildings can be cleaned and used again (as it is at Gillette Stadium and at the Wrentham Mall, among many others).
Fix infiltration of groundwater and inflow of rainwater into old sewer pipes. Infiltration is groundwater that enters a sewer system through cracked, crushed or leaky pipes, joints and manholes. Inflow is rain or surface water that enters the sewer system, generally through illegal connection of things like sump pumps and roof drains. Infiltration and inflow (known as "I/I") not only steal huge amounts of water from water supplies and waterways, it reduces sewers' carrying capacity so that in big rainstorms raw sewage may spill out into streets, lawns, basements and waterways. People living in communities with I/I also pay far more than they need to in sewer bills.
ARE THERE MORE INFORMATIONAL RESOURCES ON THIS?